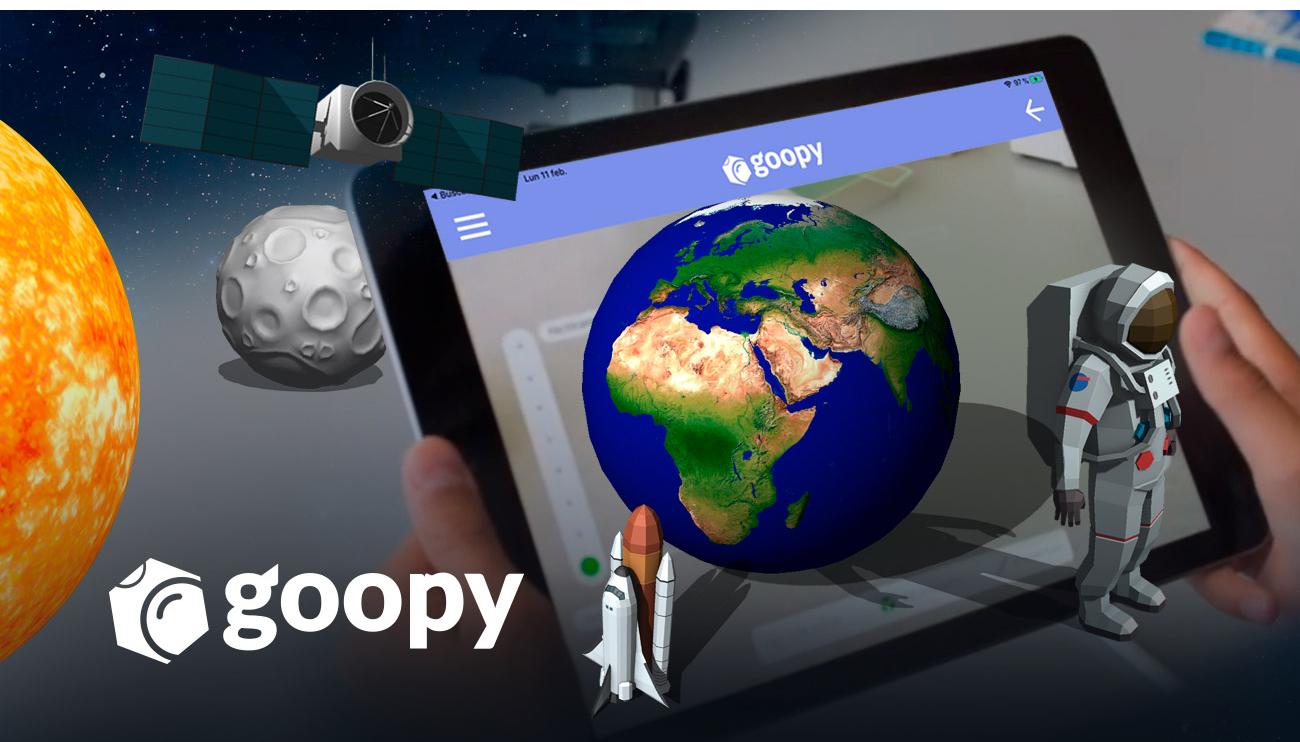 The augmented reality allows us to incorporate digital / virtual elements on the real world that surrounds us, which we can access through devices such as smartphones and tablets. Using technology we can generate experiences that enrich the environment using information in real time.
Discovering these digital elements is very easy, using your mobile or tablet, direct the camera towards an image or space that recognize the application and you can enjoy 3D animations, images, sounds or videos coexisting with the real world.
Application developers are increasingly creating augmented reality applications for entertainment, education and tourism, and they are increasing every day after the launch of Apple ARKit and Google ARCore.
One of the most disruptive uses of augmented reality is to apply it to the education sector. The augmented reality provides a component of innovation in traditional classrooms, increasing the iteration between the didactic materials and the students, thus involving more senses in the learning process and making it more efficient and profitable for the students.
Augmented reality can make the educational experience fun for a group of students and onlookers who like to play with digital and interactive content.
Augmented reality can also help students to better manage their tasks when they are not interacting with their teacher, for example, if they scan a math book, they can watch a video that explains some exercises or interactions with additional detail about content on the pages of textbooks.

Some benefits of augmented reality in education:
No special equipment is required.
Unlike virtual reality, augmented reality does not require any expensive hardware. Because teens currently have their own smartphone or tablet, augmented reality technologies are available immediately to the majority of the audience and there are many apps available on Google Play and Apple store.
See more details about the Goopy application
Accessible learning material.
It offers portable and less expensive learning materials. As a result, education becomes more accessible and mobile.
Greater participation and student interest.
The interactive content of augmented reality can have a positive and very significant impact on students. It keeps them engaged throughout the class and makes learning fun.
Practical learning
In addition to schooling, augmented reality content can also greatly benefit students. For example, the accurate reproduction of multimedia elements can help develop the practical skills required for a given class topic.
Fastest and most effective learning process.
Augmented reality in education helps students achieve better results through visualization and immersion. A picture is worth a thousand words, right? Then, instead of reading the theory about something, students can see it with their own eyes, in action.
In this article, we have explained how augmented reality can help in the education industry since it has a tremendous impact on the different phases of the educational process. In the next few years, a revolution of the entire educational system is expected using this technology.
To learn more about our solutions and how to create interesting educational content with Goopy https://goopy.io/ar-solutions